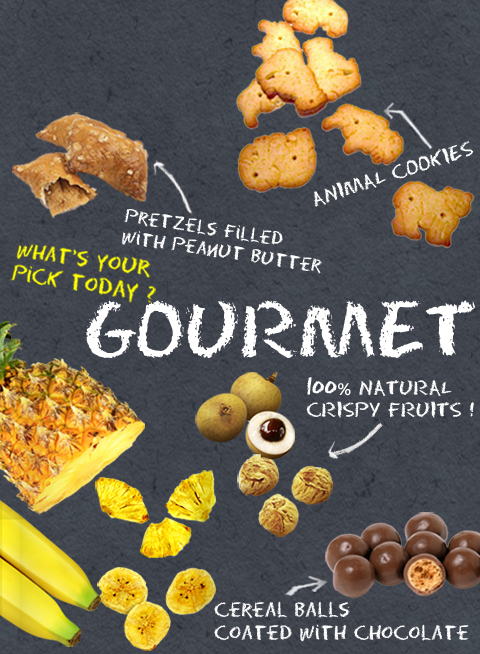 Market Square Kids Cookies
Every mother and father knows that they have limited space in that bag across the top of their strollers. Necessities go in first, but the treat is always ready at the top. Parents hand over these adorable cookies with complete confidence. Not only are the crackers baked into endearing animals shapes, but also they "live" in vivid, colorful, easy-to-grasp boxes.... and they taste great too!
Pocket Pretzels ® Peanut Butter Pretzels
Delicious bite-size pretzels made with the finest wholesome flour and filled with specially blended real peanut butter. The peanut is a fascinating and mysterious food. Did you know peanuts are not nuts? They're legumes, like beans and peas. The plant is actually a vine and the peanuts grow beneath the ground. Peanuts are nutritious - they are full of Protein, Vitamins, and Minerals!
Crispy Veg & Fruits ® Crispy Fruits
Premium natural fruits offered for health-conscious consumers. These products are made from natural fruits : NO oil, NO preservatives, NO sugar added, and yet very high in Antioxidants. The drying process is of a high end type applied for thermal sensitive products such as fruits and vegetables. This process enables the products to retain their nutrition, original taste and are super crispy (without the need of adding oil to the production process)! And very convenient to pack in bags when you're on the road - products are packed in re-sealable bags.