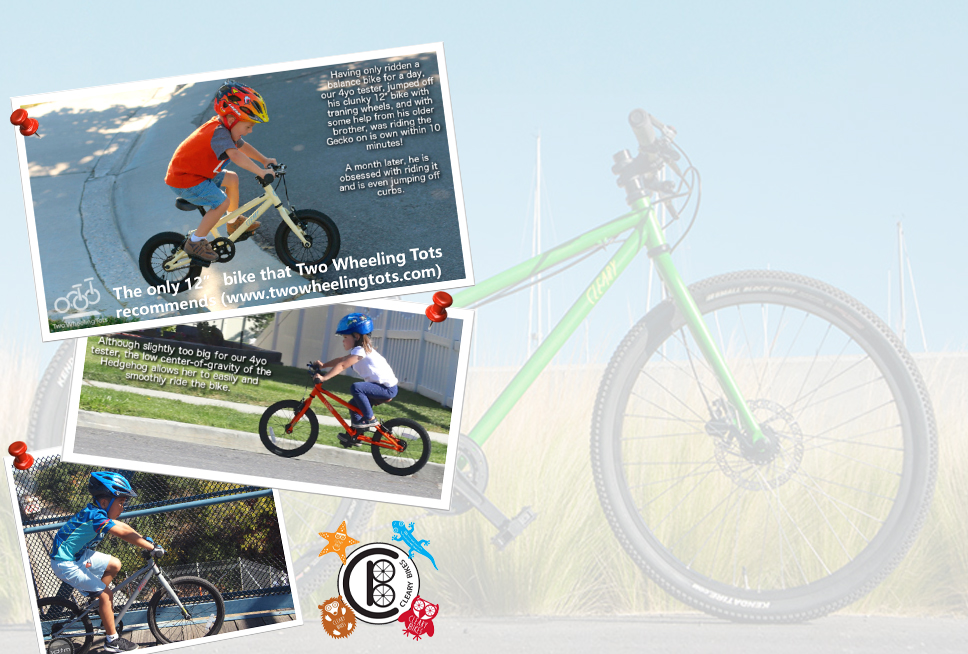 Cleary Bikes are designed to empower kids. At Cleary Bikes, we believe that riding a bike should be fun, not stressful or scary. There should be no limit of what a child will do on a bike, from cruising around to exploring the neighbourhood. Our lightweight kids bikes are meant to be fully enjoyed, ridden hard and handed down to the next lucky person. Great things about Cleary bikes:
1. Lightweight - as low as 7.2kg on the 12" / 7.4kg on the 16"
2. Bike's geometry designed to let rider's weight evenly distributed between the hands, feet, and seat - gives them steady ride without wobbling sideways making it feel safe.
3. Reversible seat post designed to allow adjustability of the distance between the seat and the handlebars, maximizing rider's range of body positioning and adjustability.
4. Front & rear hand brakes. Grips, handlebars and brake levers designed for small hands.
5. Protective sealant under its lead-free paint to prevent dents, dings, and rust.
6. All Cleary bikes have no derailleurs, so nothing will block the chain because the chain always turns in alignment. To put it simple, Clearly Bikes ride smoothly and silently day after day. We GUARANTEE it.
1. 車身極輕只有7.2kg,比一般兒童單車輕至少25%, 讓小朋友更容易控制。
2. 採用山地車直手把,令重心更低,行車更平穩,而且可調較高度。
3. 車架重心經過精心計算,令小朋友起步減少左右搖擺。
4. 皮製的座位,可前後調較,配合小車手高度及最佳坐姿。
5. 前、後煞制均用上 TREKO V 制,不但品質高,制動力好,而且拉手位特別根據小手仔設計,令他們能輕鬆把車煞停,減少意外。
6. 後輪煞車線穿過車架,美觀簡潔得來也令煞車更穏定。
7. 乎合美國 CPSC/ CPSIA 單車安全標準。
For more information : www.clearybikes.com
Visit our facebook page : www.facebook.com/octopusinc.com.hk
Press :
Cleary Bikes featured in Momentum Magazine
Cleary Hedgehog was featured in Mountain Flyer Magazine
Cleary Owl was field tested by Bicycle Times Magazine
MTBR and Road Bike Review on Cleary Owl 20″
Bike Rumor's review of Cleary kids mountain bikes
Undisputed authority on kids bikes reviews:
http://www.twowheelingtots.com/cleary-gecko/
http://www.twowheelingtots.com/cleary-hedgehog-2/