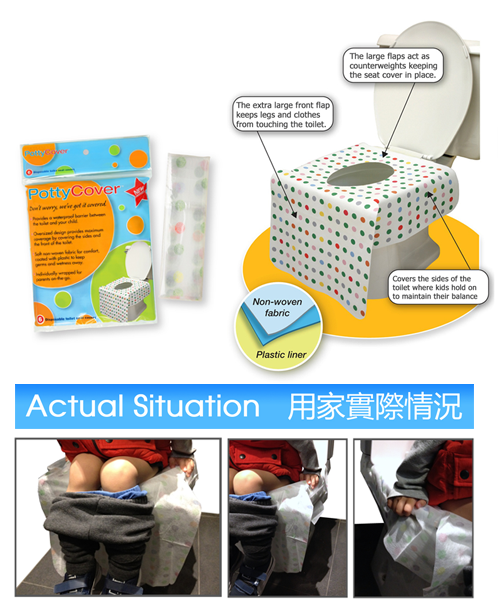 • Provides a waterproof barrier between the toilet and your child.
• Oversized design provides maximum coverage by covering the sides and the front of the toilet.
• Double layered with soft non-woven fabric on top, coated with a layer of plastic on the bottom to keep germs and wetness away.
• Protects children and adults from germs on public toilets.
• Ideal for both boys and girls who are old enough to sit on the toilet.
• Stays on the toilet without any messy adhesive strips.
• Each PottyCover is individually packaged in a small, easy to carry bag.
For maximum protection against germs!
Amazon 五顆星評價!
拋棄式馬桶座墊紙 (每包有六片座墊,每片獨立包裝。)
超大設計可遮蓋馬桶前面及兩側,不用擔心小朋友的大腿跟小褲褲會碰到馬桶,同時小朋友也可自在抓握馬桶兩側,不怕弄髒手。
( 市面上其他相似產品無法做到 )
※ 塑膠底隔絕細菌及潮濕,而且令座墊紙不會輕易移動,不用怕抱小孩上落馬桶途中,座墊會掉進馬桶裡.....
For more information : http://bit.ly/PottyCoverAmazon
Visit our facebook page : www.facebook.com/octopusinc.com.hk